08/09/2021
Bridgehead International Agency to sell and distribute AirSelfie products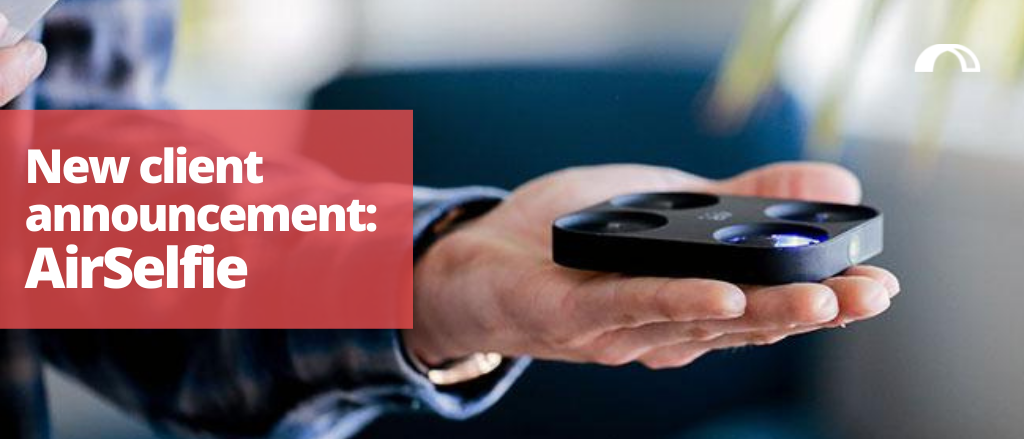 AirSelfie Inc. increases retail distribution and consumer-reach of their next generation pocket-sized aerial camera range, throughout the UK
AirSelfie Inc. is pleased to announce their new partnership with Bridgehead International Agency Ltd, experts in taking new products to market rapidly.
The new routes to market will create far-reaching accessibility of the AirSelfie product range, throughout the United Kingdom, to meet the increasing demands for the AirSelfie solution in the emerging category of aerial cameras. 
"Bridgehead is a very strategic partner for the expansion and continued growth of our business," says AirSelfie Inc. CEO, Greg Appelhof. "The team has proven their expertise in this market over the past 12 years, and we are partnering with one of the best players in the region. Bridgehead will fulfil the demand of the AirSelfie's products in this important consumer tech market."
Paul McIntosh, founder and CEO of Bridgehead International Agency Ltd adds, "Consumer tech is an ever-evolving, fast-growing market, and it's wonderful to have the opportunity to introduce and develop yet another brand new category. AirSelfie products are unique, and offer a compelling proposition to those end users looking for the next evolution in videos and photos. We're very excited to be working with Greg and the AirSelfie team to bring their innovative end-to-end solution to the UK market."
The AirSelfie introduces a brand-new digital imaging category – Aerial Cameras. A unique intersection of drone, meets iPhone, meets Selfie Stick, the product is making waves in the consumer technology space. By reinventing personal photography, the AirSelfie allows users the ability to record their experiences, hands-free from the air. In the world of digital content, the AirSelfie gives content creators a way to capture HD images and video from new heights and perspectives.
Established in 2016, the AirSelfie has inspired thousands of crowd-funders, raising over 1.6 million, globally. 
About AirSelfie, Inc.
The AirSelfie Inc. product (sold in over 100 countries) is the world's first and only autonomous pocket-sized aerial camera that allows users to take HD photos and video, hands-free from the sky. On the leading edge of aerial camera technology, AirSelfie Inc. introduced the Artificial Intelligence based, AutoFly controller with app-free autonomous flight mode, which allows AIR PIX to launch, fly, shoot HD selfies or video, and then return to the user with the touch of a button – even in the absence of a smartphone connection. AirSelfie aerial cameras and their accessories are developed and produced by an international team of talent, hailing from all over the world.
About Bridgehead International Agency
Bridgehead is an international go-to-market agency helping SMEs grow in their existing markets or expand overseas. Their experts across Europe & North America not only create strategic market-entry plans, but most importantly, implement them, achieving quantifiable results in 90 days. Guaranteed.
Contact information:
Greg Appelhof
CEO, AirSelfie Inc.
[email protected]
Veronika Prophet
Marketing Manager, Bridgehead International Agency
[email protected]