26/10/2020
Critical Success Factors for Effective Global Expansion Post COVID-19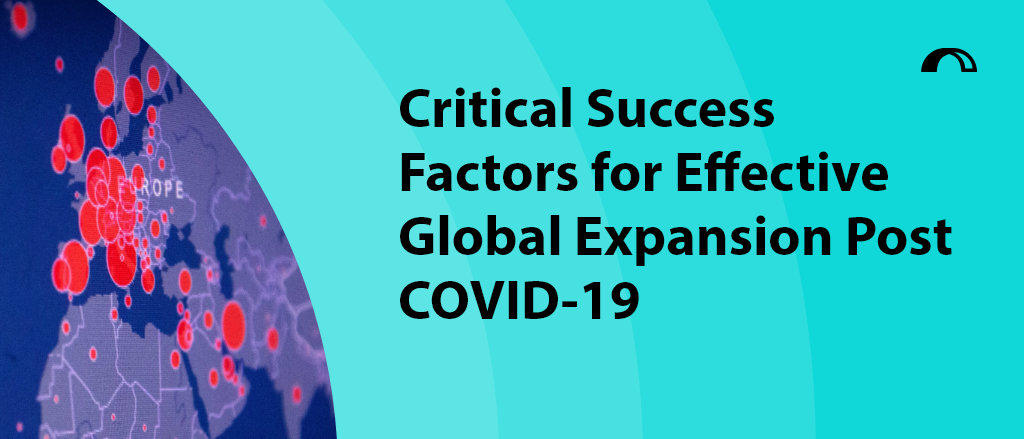 In this article we explore the top critical success factors to help your company's international expansion
Since the onset of the pandemic, virtually every business has had to adapt in some way to this new world created by COVID-19. Perhaps they've been forced to modify their product or service offering, aimed at a different demographic, or have even found new channels to work within.
In the face of the current uncertainty, businesses are seeking the reassurance of long-term solutions to help them to minimise the ongoing impact of COVID-19 or a future pandemic. In these times, exporting globally to reach new markets may just be what the doctor ordered to help transform your business from one looking to survive, to one that really thrives.
The additional ongoing uncertainty around Brexit and the future landscape of the domestic market are solid reasons for seeking new markets. Contrary to popular belief, selling products or services cross-border can be both simple and affordable, so long as you undertake your research, choose the right partners, and have a world-class go-to-market strategy. This article will touch on the critical success factors that will enable you to plan for a smooth international expansion in a post-COVID-19 world.
Critical success factors for international expansion:
As a business owner, it's important to minimise risks prior to committing to an international expansion. You can do this by working with an established expert agency. Choosing a partner with a proven track record will help you to eradicate risks, minimise costs and maximise ROI. A partner can undertake comprehensive research to gauge demand and develop a go-to-market (GTM) strategy to enable you to accelerate entry into your new market, establish a clear presence and generate instant income streams, rapidly.
Since the global outbreak of COVID-19, most countries will have implemented new legislation to manage the pandemic. It's imperative that you understand the local legislation to ensure full compliance. Expert advice will be critical to achieving this.
1. Test the Waters
Traditionally, establishing a global entity has been the primary expansion method. However, this route comes with significant costs, restrictions, and is potentially a long-drawn-out process if encountering unexpected problems.
There is no need to create a legal entity in a new region from day 1. Allow the commercial agency you are working with to engage with target customers, evaluate your pricing elasticity and your value proposition to ensure all resonate. This will ensure there is a demand for your business, creating swift revenues and building a robust sales pipeline to grow from and substantiate further investment. By not having an entity you have the flexibility of being able to exit an international market as quickly as you enter it. Taking this approach allows your business to test the waters before making a full commitment.
Choose your routes to market wisely
COVID-19 has put face-to-face interactions on hold for the foreseeable future. Digital interactions have since become the preferred method of interaction. New data from IBM reveals that the pandemic has accelerated consumer shift towards e-commerce by five years. According to new research from McKinsey & Company, it's never been more important to have an effective online and social media presence. With this in mind, businesses should be future-proofing their sales channels, both on and offline.
When it comes to expanding overseas, businesses need to choose routes to market wisely. Understanding where to start and how to start is critical for success, accessing the right channels and verticals is key. Being laser-focused and creating your landing point – your bridgehead – reduces risks, and you would have the added benefit of capitalising on your partner's local knowledge and expertise.
Exhibit real empathy
Marketing communications has taken a shift since the pandemic. We have witnessed a lot of messages being sent by company CEOs. They show compassion, empathy, helpfulness, and immediacy. The messages are more down-to-earth compared with the thought leadership content which were previously doing the rounds in the pre-COVID world. Those pieces now seem rather pretentious and ingenuine.
Clear and inspiring communication is central to making this next phase a success. Business leaders need to invest time in cultivating open conversations about what has been lost in the pandemic and translate these to customers. Learning which messages resonate with your audience and being sensitive to their needs will be key to your marketing communications' success.
Deliver value at every touchpoint
In a post-pandemic world, the paradigm has shifted in favour of buyers. If you can't solve your customer's problems, they will find someone who can. A great example of this is the market disruptor Amazon, which recorded a whopping 40% sales growth in the last quarter. Amazon has been largely responsible for getting customers exactly what they want, delivered the next day or even on the same day. They have set a high benchmark, thus raising customer expectations.
Be aware of the length of your customer's buying cycle, deliver value to them at every touchpoint by providing relevant content. For example, customers in the information gathering phase will require different material than when they are in the decision-making stage. In B2B sales, we have seen the growth of ABM (account-based-marketing) because it works. In fact, research from the Altera Group found that 97% of respondents reported that ABM had a somewhat higher or much higher ROI than any other type of marketing campaign.
The International Monetary Fund (IMF) forecasts that the U.S., EU, Japan and Canada will each see a GDP decrease between 5.2 to 9.1% in 2020. However, there are still areas of growth. IMF revised its growth projections for China to 1.2% in 2020, and 1.9% for India. India is renowned for its top tech talent and remains one of the most promising markets for post-coronavirus global expansion.
As we emerge into this new world, if you are at the stage where you feel ready to take your business into the next phase of growth, get in touch with our expert advisers.  We'll help you to plan, develop, and deliver the strategies needed to enter new markets overseas. 
Insights on international expansion
If you enjoyed our top tips for new exporters, join our Discovery Lite portal for free. You'll get access to a monthly insights magazine and bonus downloadable materials to help your business reach new markets:
Let's connect
Let us know what you think, or get n touch if you have any questions:

Related content