25/04/2019
Financing Expanding Your Business Into Europe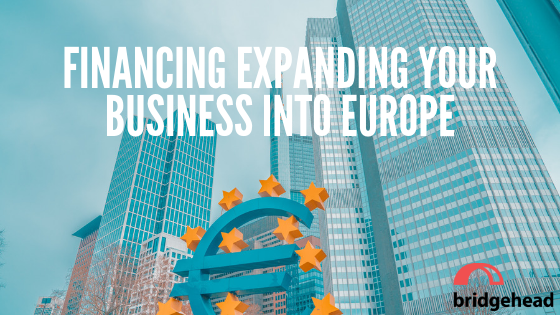 Expanding your business into Europe from North America and overseas is a fantastic opportunity if you are a scale-up company or SME looking to significantly grow your business, and take on new territories to become a global brand.

How to finance your move into Europe and how much that will cost is one of the most popular unanswered questions around European expansion, potentially stifling growth and putting plans to go global on pause. Rest assured, our team has worked with many businesses just like yours, and guides the way for you by passing on our years of experience and knowledge to guarantee success both before and once you arrive into Europe, through our active business development plans and specialist teams.
Internal Funding

By setting a portion of your business profits to one side, you can fund your ambitious expansion into Europe without sourcing the monies externally. This means you retain full ownership of your company and don't have to pay any interest or fees on money borrowed.

Apply For Grants

To encourage overseas partnerships the EU occasionally makes grants available to encourage international businesses to take advantage of the excellent opportunities that expanding your business into Europe can bring. Applying for a grant from the EU can be an excellent option for those companies looking to make significant investment in an overseas arm of their business – https://ec.europa.eu/info/business-economy-euro/doing-business-eu/finance-and-support_en http://www.exim.gov/
How Much Does It Cost To Expand Into Europe?

The answer is, probably not as much as you think. At Bridgehead International Agency Ltd we specialise in assisting international companies like yours to take advantage of the phenomenal opportunities Europe can offer. We become your European guide offering extensive international business expansion advice, and feet on the ground to get your product/service into the hands of prospective buyers, securing purchase orders.

To take the first step with us and enquire about how we do this, our Discovery Service is for you. This is Bridgehead's weekly news bulletin, offering unfettered access to our valuable free reports and insight. Use Discovery to build up your knowledge base and help you identify profitable markets for your business -> https://bridgeheadagency.com/