12/11/2022
How green techs can promote their innovation, globally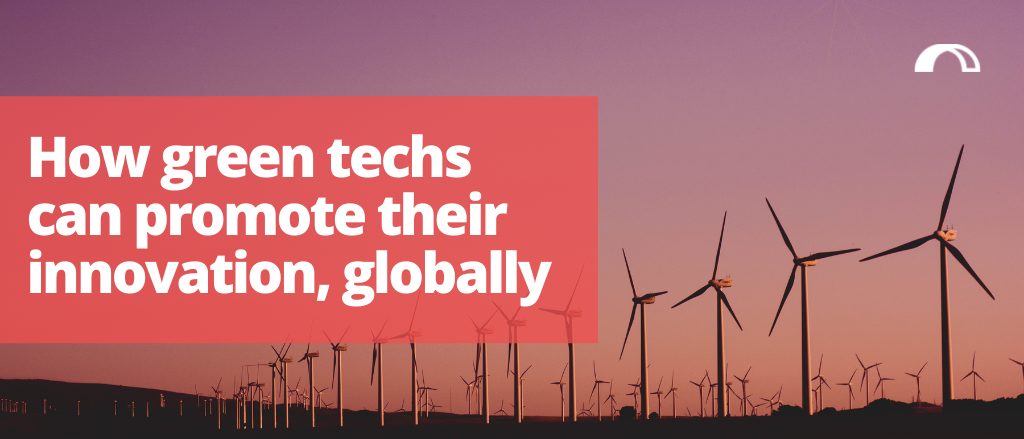 Explore how to grow your green tech internationally, overcome common barriers to expanding, fastest growing areas and more
Fast-growing green technologies are transforming the world. Underpinning this rapid growth is the climate crisis, which has shifted consumer attitudes towards ecologically responsible purchasing. By 2030, the green tech sector is expected to gain further momentum, with global revenues in environmental technology and resource efficiency expected to reach €9.4 trillion, equating to an annual growth rate of just over 7%1.
For green techs, this presents a huge opportunity to grow your business, whilst tackling the global climate challenge. Here we review the fastest growing 'green' areas, the up-and-coming green techs to watch for and how green techs can overcome common barriers to scale up, globally.
The blooming greens
Leading the market is energy efficiency, a sector worth €117 billion. The key drivers will be renewable energy sources, such as wind power and photovoltaics, as well as stationary storage technologies.
Following behind is sustainable mobility. This segment is currently valued at €91 billion. Alternative drive technologies are experiencing the fastest growth. We spotlighted the electric vehicle (EV) market in the October edition of ScaleUP. As EVs become affordable to the mass market, it is predicted that this market will soon hit a period of rapid growth, following the typical S-shaped curve.
Sustainable water management is a rapidly emerging sub-sector. An increase in population results in rising water consumption. Therefore, companies who can leverage innovation around efficient water utilisation will experience high growth. It's estimated that this segment will enjoy an average growth rate of 21% through to 2030.1
Fastest growing green techs round-up
It's officially cool to care. Here we round-up the most exciting green techs to watch out for from Europe and North America.
Aceleron
Taking charge is Birmingham based, Aceleron, founded in 2016. Aceleron manufactures the world's first serviceable, upgradable and recyclable lithium batteries. Battery applications include household and energy storage.
Within three years of trading, Aceleron reached £1m turnover. This Summer, they scooped the 'Environmental product of the year' at the Data Centre World Awards. The company utilises grant funding as well as private investment.
Fuergy
Founded in 2018 in Slovakia, Fuergy developed a device called brAIn. It was designed to optimise energy consumption and to maximise the efficiency of renewable energy sources.
Customers can cut their energy bills by sharing energy. The brAIn device connects to Internet of Things (IoT) devices to make the most of energy consumption. For example, a household with excess solar power is able to sell their energy to other consumers in the community. The same applies to businesses who can share their energy with other companies through their Business division.
Fuergy generates revenue through sales of their brAIn devices as well as collecting fees through saving energy from its new energy ecosystem.
Facedrive
Facedrive was established in 2016, in Ontario, Canada. They began as a ride-sharing service (think Uber). The Covid-19 pandemic forced them to make adjustments to their business model in 2020. They have since added 3 verticals to their offering, food delivery, health tech services and an e-commerce platform.
Their 3,500 drivers earn up to 90% of their fares and tips. Facedrive is currently available in 7 Canadian cities. Facedrive has their sights set on US expansion, initially targeting Washington D.C. A European expansion is also on the cards.
How green techs can overcome barriers to expansion
Green techs inevitably face high research and development (R&D) costs. This is the biggest obstacle hampering the growth of the market. Green techs need to keep product development, manufacturing and material costs under control. The need for process efficiency and value creation will be key to success.
Let's consider Californian-based Tesla, who supply EVs globally. When Tesla entered the US market with the 'Roadster' (fully electric sports car), it was priced high, and a low number of units were produced. The vehicles were aimed at wealthy early adopters. As R&D progressed, Tesla were able to benefit from economies of scale, hence subsequent models became cheaper and they were able to lower prices. Tesla's end goal is to provide electric vehicles for the mass market.
Do you know about the Wipo Green database?
To any green techs, it's worth visiting the free wipo green database. This is a global list of sustainable requirements. These needs are categorised by companies, institutions and non-governmental organisations who are seeking green technologies to solve a specific climate change or environmental issue. It's also a platform for green techs to promote their upcoming products. So, if you are seeking collaboration or joint venture partners, it's the place to be.
Green finance
The positive news is that investors are increasingly interested in green startups. Funding for green techs is coming from crowdfunding platforms and socially responsible investors. The UK Government has announced that the cities, London and Leeds are to become the global 'hubs' of green finance. The Government has committed £10m to new world-class green finance research. These research hubs will offer data and analytics to financial institutions such as banks, lenders and investors around the world, to support their investment decisions in green companies.2
The grass is greener on the other side, going global
Learn from market research
In many cases, entrepreneurs become too focused on their product, and fail to consider whether there is actually a market for it. It's critical to carry out market research to identify the level of potential demand for your product or service.
Using Tesla again, when deciding to expand overseas, they understood that car dealers might have a conflict of interest between selling electric cars and fuel-powered cars. This led them to utilise direct selling as their sole sales strategy. All stores and service centres are owned by Tesla. It was their belief that through direct selling, customers would be better informed and receive greater service.
Be prepared to make local adaptations
Entrepreneurs should also be prepared to make necessary product or service modifications. A good example is the US-based company, Beyond Meat who manufacture plant-based meat products, such as burgers and sausages. The chain announced their ambitious plans to enter over 50 countries in 2018 including Europe, Canada and Asia. Sales in Hong Kong quadrupled just a year after Beyond Meat entered the market. One reason for the product's popularity is because the meals were customised to suit local tastes. Using plant-based chicken as the primary ingredient, dishes such as 'Sichuan spicy chicken' and 'Hainan Runaway chicken' were created.
Develop a tailored Go-to-Market strategy
Understandably, green techs will want to show-off their innovation to the world. To succeed in global expansion, you'll need to create a detailed Go-to-Market strategy. In truth, there are actually 30 stages to developing a detailed GTM strategy, but these stages are all centered around the following six core steps:
Identifying what your value proposition is, and what makes your product unique? Hopefully, this won't be too difficult for a green tech company.
Who are your target customers? E.g., are they ethical buyers?
Competitive benchmarking – who are your competitors, and how does your product compare?
Channel analysis – where would your customers expect to access your product or service?
Channel strategy – Choosing strategic channel partners to work with, will you choose companies with similar ethical values?
The numbers – deciding on a price point. You may have to price your product high, initially, which may limit your target customer.
Ready to take your green tech to new markets?
If you choose to work with Bridgehead, we'll spend the first few weeks planning and preparing your bespoke go-to-market review. We'll identify potential customers and how your product or service needs to be sold. We have helped a number of green tech firms achieve their goals, so if your ambition is growth, talk to us today.
Insights on international expansion
If you enjoyed our tips for growing your green tech internationally, join our Discovery Lite portal for free. You'll get access to a monthly insights magazine and bonus downloadable materials to help your business reach new markets:
Read next on international expansion:
References