28/10/2022
Importance of building relationships in international expansion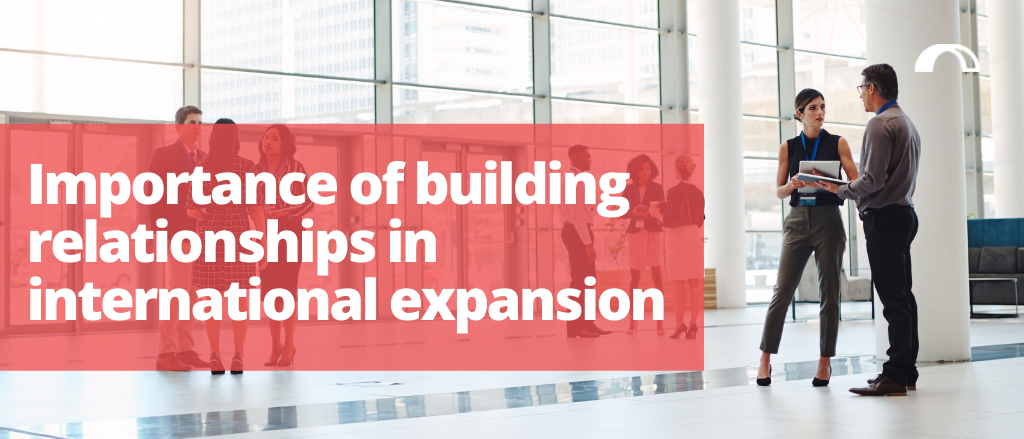 In the 'Doing Business in the Netherlands' guide1, we learnt that the Dutch highly value friendship and mutual trust. If you want to do business in the States, when you earn the trust of an American, you will reap the benefits of a productive working relationship. In business, trust is everything, so here we outline the importance of building relationships in international expansion and how you can improve relations with your overseas partners, customers and suppliers.
Why you need good relationships
Having strong relationships is crucial for any business. Successful business owners enjoy good relationships with their employees, customers, suppliers, stakeholders and their local community. Having good relationships in international expansion becomes even more critical, as it requires faith in the expertise and competence of your network from afar. Let's look at the benefits of establishing strong business relationships.
Attracting new customers and increasing customer retention
"Saying hello doesn't have an ROI. It's about building relationships." – Gary Vaynerchuk.
Successful businesses establish positive relationships with their customers. If your customers are happy, they will recommend your company to others. Successful startups such as Gousto has mastered the art of referral marketing through offering credit to their existing customers who introduce new customers to them. The lesson here is that happy customers are your biggest brand advocates. For businesses expanding overseas, your brand is likely to be unknown in that new market, so you'd need to work extra hard to build a relationship with your new customer base.
Favourable rates and terms
Having good relationships is likely to help you to get more favourable rates and better terms of service. After all, people like doing business with people they like.
Attracting investment
As a small business, you may struggle to solely finance your international expansion, so building a strong network will increase the potential of your business attracting investment, with your trusted connections possibly being able to put you in touch with potential investors. You can read more on financing your international expansion here.
Ways to build relationships in international expansion
Having a good relationship isn't simply about promptly replying to emails, or being polite on calls. Business relationships take time to develop. Fundamental to any good relationship is trust. It's difficult to mention the word trust, without looking to one of the world's greatest authorities on trust, Stephen R Covey and his widely acclaimed book, The speed of trust.
In his book, Covey's big idea is that trust impacts everything. Applying this to the business world, trust affects both cost and speed. When trust is low, speed is low, and therefore cost is high. On the contrary if trust is high, then speed becomes high, and cost becomes low. So, if you use overseas suppliers and partners, it's easy to see how mutual trust would increase efficiency and cut costs. For example, you wouldn't need to double check everything, or waste time sending emails to cover your back, things could perhaps be done via a quick phone call, saving time and money.
In international business, there needs to be a strong trust culture because things are happening across great distances, and often outside of your complete control. When you are forming relationships with people overseas, be mindful of cultural differences. For example, in Italy, you are more likely to secure a deal over a long lunch. Seek to understand the cultural customs of that particular country, this is a quick way to gain trust and respect. Read our blog on unexpected differences in business etiquette.
Here's our advice on how to build relationships to succeed in international expansion.
Create a transparent culture
"I find that when you open the door toward openness and transparency, a lot of people will follow you through." – Kirsten Gillibrand
Transparency remains one of our company values, it's achieved by being honest and open with each other. When you operate in different countries, you can utilise tech to support information sharing by using collaborative software. Ensure that regular communication is scheduled whether it's a daily, or a weekly catch-up. Provide honest feedback to each other. It's advisable to choose business partners who share similar values to your own. For further reading on what to consider when choosing your partners, click here.
Clarify expectations at the beginning
"High achievement always take place in the framework of high expectation." – Charles Kettering
Following this quote, a topical example is the British diver, Tom Daley, at the age of 11, he announced to the world that he wanted to win an Olympic gold medal. 16 years later, he achieved his ambition by winning a gold medal at the Tokyo 2020 Olympic games. It's important to set expectations at the beginning, after all, if you don't set expectations, how do you know what you will measure? Draw up clear written contracts. It's common for things to go wrong in new relationships because companies are eager and oversell themselves. Make sure that you don't get carried away; be realistic about sales volumes, timescales and order fulfilment. When businesses are new to exporting, remember to factor in the additional time required for shipping.
Be accountable and accept responsibility
"Leaders inspire accountability through their ability to accept responsibility before they place blame." – Courtney Lynch

A common trait found in great leaders is that they take responsibility for results. Avoid pointing fingers when things go wrong. If you are accountable for your mistakes, then admit them and if necessary, pay for them. Regularly report on performance; be sure to identify the good but also highlight areas which require improvement.
Keeping commitments
"One of the fastest ways to restore trust is to make and keep commitments – even very small commitments – to ourselves and to others." – Stephen R Covey
Make commitments carefully and keep them at all costs. If you say that you will call someone at 10am, make sure you follow it through. When it comes to customer service, Domino's Pizza springs to mind, with their 30-minute guarantee. If your pizza takes longer than 30-minutes to arrive, then it's free to the customer. Deliver what you promise to, this is the foundation to building a long-lasting relationship.
Extend your trust and this will be reciprocated
"I have found that by trusting people until they prove themselves unworthy of that trust, a lot more happens." – Jim Burke, former CEO, Johnson & Johnson
Creating a trust culture requires time and effort, this is more the case if there are language barriers. If you demonstrate a propensity to trust, it will be reciprocated. Harvard Business Review identified that the notion of trust varies, globally. In North America and Europe, trustworthiness is determined by openness and consistency at the negotiation table2. Trust ultimately leads to successful business transactions.
Ready to build relationships in international expansion?
We have tried and trusted business associates across 44 countries in Europe and throughout North America, and are widely connected in both products and services industries. We have helped companies scale up in a wide variety of sectors including, FMCG, SAAS, IoT, Transportation and all types of tech sectors. Our clients can leverage our extensive network of trusted global connections to achieve rapid results, which is how we can guarantee results within 90 days. We already have the established relationships you need to succeed. Ready for international expansion? Extend your trust to us.
Insights on international expansion
If you enjoyed our tips for building relationships in international expansion, join our Discovery Lite portal for free. You'll get access to a monthly insights magazine and bonus downloadable materials to help your business reach new markets:
Read next on international expansion:
References