19/08/2020
Success in 90 days, sustained growth in year 1 – Oaxis international expansion success story
Read one of our client's success stories – Oaxis international expansion case study
WIRED UK recently reviewed the best cameras for kids and teens, and myFirst Camera 2 developed by our client Oaxis has won the much coveted 'Wired recommends' award as"the best kid's camera you can buy right now"!
It achieved this commendation due to its superb picture quality, Full HD-video capability and attractive, child-friendly design. If you're after a camera for kids, read the full review here, or buy the camera directly via our channel partners at Selfridges, Very, Currys and Amazon.
How did Oaxis achieve such international expansion success?
Now lets focus on our client, Oaxis. They're a Singapore based business that had spent 4 years, sizeable sums of money and tried to work with a number of distributors in their attempts to access the very competitive UK market.
It wasn't working, as a ScaleUp company like Oaxis need specific focus and support. With such competition in market, they needed to solve the problem of 'where to start' in order to gain traction.
We invested a huge amount of time and expertise to create their unique go-to-market strategy, complete with competitive benchmarking that targeted specific partners across retail, e-commerce and distribution. The objective was to identify key gaps in the market, however small, to gain product ranging.
We had tried for 4 years to access the UK market and Bridgehead achieved successful market entry for us inside 90 days.

G-Jay Young, Oaxis, Company Director
We broke down the barriers for Oaxis, creating them a bridgehead into the UK market.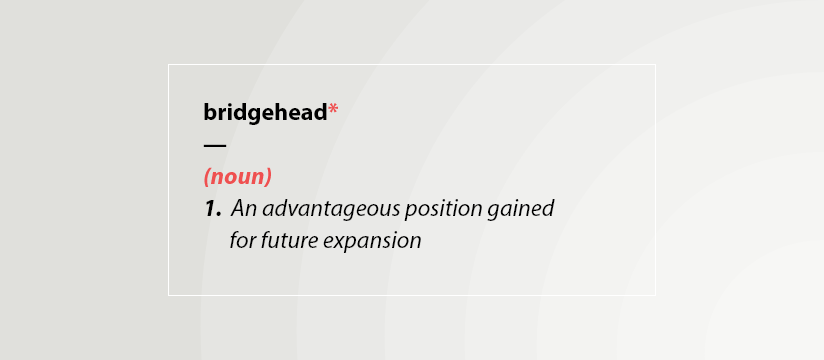 As guaranteed, we identified key target customers and closed 5 channel partners for Oaxis inside 90 days. We also closed major retailers such as Selfridges, Shop Direct and Dixons to become resellers of the Oaxis MyFirst product range. Oaxis achieved $1m of revenues in year 1, created a demand generation that resulted in a feature on the Gadget Show that saw sales increase over 500%, and won 2 x Made for Mums GOLD Awards for MyFirst.
Would you like similar results?
Get in touch with us today to discuss how we can create a bridgehead for your product or service. Whether it's North America to the UK or Europe or vice versa, our established team of experts will turn your product or service into a fast growing success story by helping you avoid the common barriers, headaches and costly mistakes incurred by businesses expanding.
Insights on international expansion
If you enjoyed our top tips for new exporters, join our Discovery Lite portal for free. You'll get access to a monthly insights magazine and bonus downloadable materials to help your business reach new markets:
Related content
Let's connect
Let us know what you think, or get n touch if you have any questions: