23/03/2021
How to choose the right routes, channels and partners in international expansion | Go-To-Market strategy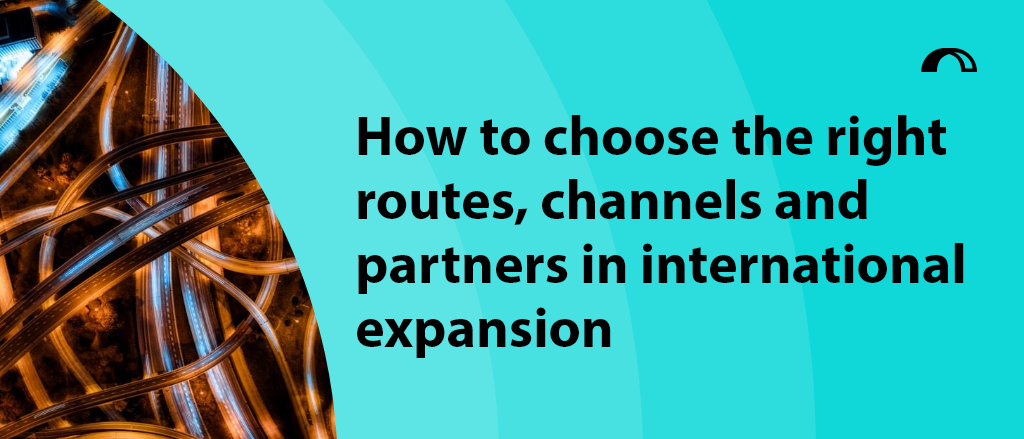 If your business goal is international expansion, there isn't a magic wand you can wave for your business to succeed. Successful international expansion requires detailed planning and a go-to-market (GTM) strategy. In our previous blog on the importance of a GTM strategy we highlighted the 5 critical components to forming a GTM strategy. One of the elements is distribution – choosing the right routes, channels, and partners. Here's our guide on how to choose the right routes, channels and partners for your business.
Distribution is about understanding where your target customers will buy your product/service. Channels are sets of independent organisations involved in making your product/service available to your end-customer. At Bridgehead, we emphasise to our clients that seamless integration in each channel should be key. Customers should experience brand consistency, regardless of what channel or touch point they go through.
There isn't a one size fits all solution when it comes to selecting the right distribution channels. It's important to choose the channels that are the right fit for your business, target markets and customers. The first port of call should be to review existing channels and identify the key players.
Review existing distribution landscape
By now, you will have a clear idea of your target market and target customers. Now is the time to understand the distribution structure within your target market in order to choose the right routes, channels and partners for your business.
Let's say you have a FMCG product to sell to the UK market and you want to sell through food retailers; you'll need to research the UK grocery structure and consumer shopping behaviour. In the UK, food retailers comprise supermarkets, discounters and convenience stores, with ownership including international, national and independent stores. People are more inclined to buy groceries in supermarkets such as Tesco, Asda, Aldi etc. This is primarily due to product availability, variety and the availability of non-food items such as electronics, stationery and clothing, all under one roof. The UK consumers also tend to go grocery shopping during the weekends1.
By understanding customer shopping behaviour and who the main players are, this will provide you with valuable insights on which retailers to target. Be mindful that each one may have different expectations, so it's useful to pre-empt order volume, margins, the time to get your product onto the shelves and their marketing requirements. Simon Betts, Client Director at Bridgehead who previously worked in commercial roles for major retailers such as Tesco, Dixons and Carphone Warehouse adds, "The large retailers don't review their product ranges daily, weekly or even monthly. You can't have a meeting one week, and have the item on the shelves the next, they don't operate like that. It's a long process and part of a long-term strategy."
Decide what's best for your business
Once you are familiar with the distribution landscape, you can then decide which route is best for your business. If you run an e-commerce business already, you can start small by testing out the market through online sales. Alternatively, you could opt to work with partners to get your product distributed. Or you may decide to take the plunge by committing long term and set up your own entity in your target market. Let's address each option.
1. Leverage Online Sales
Leveraging your international online sales is a relatively risk-free market entry strategy. Your investment is limited, and it gives you the opportunity to test the waters in a particular market. You can also enter a market with a relatively low sales volume. Businesses start by securing orders from abroad, then drop shipping directly to the end-customer.
As and when order volumes increase, you have options to work with local fulfilment centres. These fulfilment centres import your goods, hold your stock, package and dispatch your goods on demand. This makes delivery times shorter for your local customers. Ensure you thoroughly research and read customer reviews before choosing a fulfilment provider.
2. Work with Partners
If your target market is very different from your domestic market, then opt for a distribution model using distributors, agents, resellers or joint ventures. This will enable you to gain valuable market insights without taking on too much initial risk. Using local partners with local knowledge and contacts are invaluable. The partnership should be mutually beneficial and be the right fit for your product or service. Here are some tips on how to choose the right partners:
Be market-led: we are told by clients that they have distributors approaching them at trade fairs or knocking on their door, and if sufficiently trustworthy, they would use them. Our advice is, don't feel inclined to choose the ones who are most eager. Another thing to watch out for are distributors who may also serve your competitors. This, of course, won't be in your company's best interests. Instead, focus on being market-led when finding the right partner. Ask your target customers who their preferred suppliers are and start from there.
View them as long-term partners: rather than viewing your local distributor as a short-term market entry vehicle, build strategic partnerships with them. A good relationship will result in them being more inclined to invest in long term market development over quick short-term sales.
Maintain control over marketing: at the outset, it's important to maintain overall control of your marketing and brand positioning. Local distributors may want to adapt messages to the local market, it's crucial that any adaptations are aligned with your overall marketing strategy. Ensure that you retain brand consistency regardless of the channel or touchpoint. A good example is Ikea, whose USPs include low price, sustainability, form, function and quality all in one. Globally, their stores retain similar elements, but their room sets are adapted to suit local tastes. E.g., in their Japanese stores, they feature tatami mats, which are a traditional Japanese floor covering.
Look for distributors who can develop markets: often, it's easy to dismiss a partner if they don't have the exact experience. However, think long term: do they share similar values and goals to your business? Are they the right fit? What's their game plan? Loctite, the German adhesive and sealant manufacturer revealed, "We increasingly look for 'company fit' – a partner with a culture and a strategy we feel comfortable with. In many cases, this leads us to partners who have no experience of our market. The first couple of times, this felt risky, but our success with some of these partnerships has made us bolder in choosing distributors." [2]
3. Set up your own foreign entity
If you have the capital and you've decided to commit long term, then you could set up a foreign entity. This will give your business full control on distribution, operations, marketing and sales. However, it takes time to find the right location, set up systems, recruit and train local staff. Understanding the differences in your target market compared to your home market is critical, as product and marketing adaptations may be necessary. It's vital to fully understand the local market, secure sufficient orders in the sales pipeline, and work through any regulatory and legal requirements prior to taking the plunge.
Choose the right routes, channels and partners in international expansion
As the saying goes, no plan should be set in stone. As your business grows in your new market, your distribution model may need to evolve too. Choosing the right routes, channels and partners is a critical step in forming your Go-To-Market strategy to ensure a successful global expansion. We have a network of specialists and contacts who can help you to choose the right distribution channels to get your product/service in front of your target customer. The time is now. Contact Bridgehead specialists today.
Sources:
1. Statista UK country report, September 2020
2. Seven Rules of International Distribution, Harvard Business School
Insights on international expansion
If you enjoyed our top tips for new exporters, join our Discovery Lite portal for free. You'll get access to a monthly insights magazine and bonus downloadable materials to help your business reach new markets:
Let's connect
Let us know what you think, or get n touch if you have any questions: