25/04/2023
Global expansion for IoT companies | Do you have a GTM Strategy?
Businesses and consumers will gradually be able to implement the Internet of Things (IoT) as technology continues to advance and mobile connectivity gets even better. Several IoT companies have worked with us to expand into new markets overseas. In this blog, we discuss the key considerations for IoT businesses when planning for global expansion.
Statistica revealed that the IoT market was valued at $251.6 billion in 2022. By 2030, the market is expected to reach $621 billion. [1]For IoT companies, this presents huge business opportunities. 

Let's look at IoT companies who have achieved global success quickly.

The Financial Times ranked Samsara as the #2 fastest-growing company in the Americas. Sanjit Biswas and John Bicket founded the company in April 2015. Their connected operations cloud integrates safety, efficiency, and sustainability into their customers' operations. Their first product enabled fleet tracking in real time. This was followed by an inward-facing dashcam. 

Headquartered in San Francisco, today, they have 9 offices across six countries in the US, Europe, Taiwan and Mexico. In 2019, they received an additional $300m of funding from investors to fuel their growth plans. Samsara, more recently sought a US initial public offering (IPO) to aid further expansion plans. In less than 5 years, they surpassed $300m in subscription fees.

How did Samsara and other IoT companies who entered new markets achieve this quickly?

They have a go-to-market (GTM) strategy. We'll walk you through the steps you need to consider when creating a GTM strategy for your IoT business.
Step 1 | Know your market
B2B IoT companies need to adopt different strategies than B2C companies. B2B sales involve selling to a decision-making unit (DMU). It's likely that there will be multiple individuals spread across a number of departments. The whole sales process can take time; months, perhaps years, before a buyer converts. Selling to B2B is time-consuming and complex.
B2B IoT companies must recognise and nurture their relationships with all those involved in the DMU. Who needs what information? End users, for instance, are concerned about product benefits, while finance managers are interested in pricing options.
Be mindful of cultural variations and business etiquette when doing business outside of your domestic market. For example, did you know that in France, appearance is of the utmost importance? The French do not have 'dressed down Fridays'. For some light-hearted reading on business etiquette variations, read our blog here.
To determine your target audience for a B2C IoT company, conduct market research. You will be able to target your customers and position your product/service correctly by segmenting your customers. You can segment your customers by geographical region, demographics, behavioural or psychographic attributes. Companies often use customer personas to help with segmentation.
Step 2 | Create customer acquisition strategies
We mentioned previously about the DMU when it comes to targeting B2B companies. A combination of customer acquisition strategies is used by successful companies. Ensure you have relevant content to serve different stages of the sales funnel (top, middle and bottom). The most popular content used by IoT companies includes blogs, newsletters, videos, case studies, physical events, and webinars.
Marketing automation can prove to be useful for nurturing relationships. Software such as HubSpot or Marketo is used by IoT companies who have long and complex sales cycles. For example, marketing automation can be deployed to create targeted email sequencing campaigns. HubSpot says that these generate 320% more revenue compared to non-automated emails. [2]
Account-based marketing (ABM) is another tactic. Companies using ABM generate 200% more revenue from their marketing efforts compared to those who don't use it. It works by combining first-party data (website actions) with third party data (intent) to dynamically create and target the right accounts. The data will generate display and retargeting ads and web content personalisation. In other words, it creates relevant content for relevant users. [3]
Step 3 | Convey your value
IoT products or services can often be complex. In order to sell your product/service. We'd recommend that you focus on selling the benefits. Create your value proposition (be mindful that this may differ in your overseas target market). Your value proposition is the reason why your customer should buy from you. It needs to add value to your customer and solve a problem.
Here's an example of a compelling value proposition from Jiobit. They manufacture Smart tags which let you track your child's location, regardless of distance.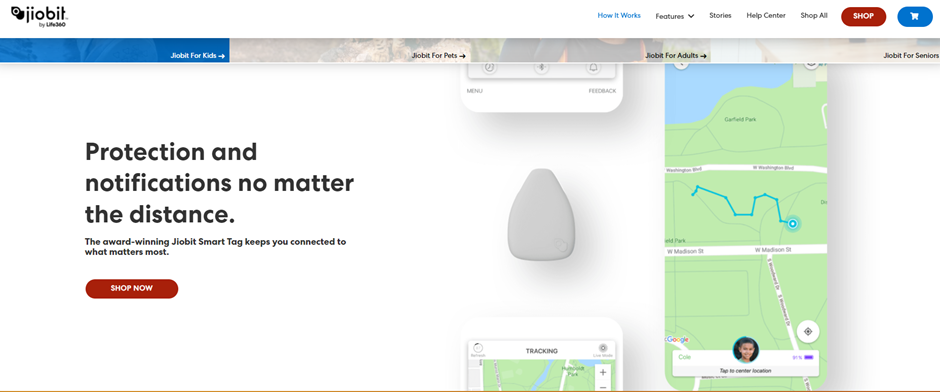 For further reading on how to define your value proposition, click here.
Step 4 | Be flexible and tailor your pricing
In your new target market, getting the price right can make a big difference between a failed experiment or successfully entering a lucrative market with high ROI and a new pool of customers.
The nature of IoT technology means that pricing your product correctly is a complex challenge. This can often be resolved by understanding a customer's value perception. IoT companies that achieve success adopt flexible and tailored pricing. The majority use a subscription-based model, then add on 'extras'.
An example of a creative pricing strategy is used by an interactive experiences company providing in-aisle video displays in retail stores. The displaying retailer is charged a flat fee upfront. The company then issues credits after analysing the gathered data.
If the display ads don't meet the contract requirements, due to reasons such as poor footfall or display errors, then the customer receives credit to their account.
Step 5 | To sell to or sell through?
When determining your channel strategy, you have several factors to consider, such as your stage of growth, your available resources, which channels would work for you, and what you can do to gain exposure and traction for the problem you're solving in your target market.
You essentially have two options, 'sell to' or 'sell through.' 

Sell to
These are businesses you sell your IoT product or service to. They could be end-users, wholesalers, and procurement partners.

Sell through
With this option, you work with organisations to identify your customers. They might be agents, TELCOs, E-commerce or Strategic Partners . This option will incur additional costs, but it will help you find end-user customers.
As your IoT business grows, consider revisiting your distribution channels.
We've discussed the 5 core steps that your IoT business needs to consider when you create your go-to-market strategy. However, every business is unique, and will need its own tailored GTM strategy. Bridgehead are experts in developing successful GTM strategies. So, if you're ready to capitalise on the vast global opportunities, get in touch today.
References
[1] https://www.statista.com/statistics/1194709/iot-revenue-worldwide/
[2] https://blog.hubspot.com/sales/100k-email-templates-follow-up
[3] https://www.rollworks.com/resources/blog/17-account-based-marketing-statistics