07/07/2021
Top 5 tips for new exporters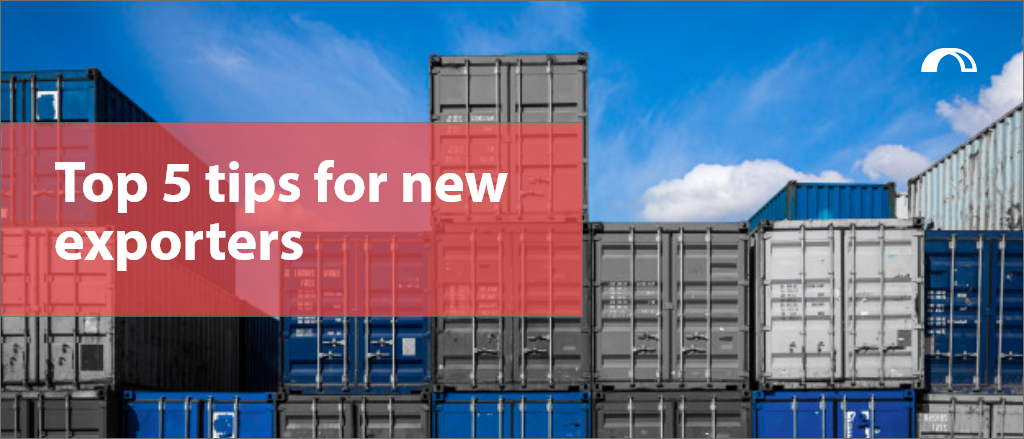 This blog looks at how SMEs start exporting, reasons to export as well as our tips for new exporters to guarantee your international success
There are currently 39,000 UK businesses which export goods to the EU1 (2020), with SMEs representing approx. one third (32%) of those businesses2 (2018). Let's consider some of the common barriers faced by SMEs when it comes to exporting.
Contrary to popular belief, finance isn't usually the biggest hurdle. The SME Export Finance Survey revealed that identifying opportunities (37%), followed by winning contracts (32%) were seen as the most significant barriers to exporting. Incidentally, only 10% of SMEs cited finance as a barrier.
How do SMEs start exporting?
Insights from the SME Export Finance Survey revealed that only 19% of SMEs became exporters because they were deliberately targeting international growth. In fact, the majority (61%) of SMEs took a reactive or opportunistic approach when it came to exporting; so, either an opportunity presented itself (an international customer knocked on their door), or they had existing contacts in that country.
Reasons to export?
The primary reason for exporting is to increase your sales volume and profit levels. Exporting allows you to tap into new customers, and also reduces reliance on the domestic market. For businesses who experience seasonal fluctuations in demand, exporting could be a good way to boost those lean periods in the calendar.
For any UK-based readers – since Brexit, the UK Government has been striking new trade deals at an impressive pace. Businesses should be reassured that 'bridging mechanisms' have been put in place to ensure the smooth continuity of trade until the new agreements are finalised.
If you are new to the world of exporting and keen to grow your business, here we share our top 5 tips to guarantee exporting success.
Tip #1 – Seek advice and support
At the top of the tips for new exporters list is seeking advice & support. It is during the start-up phase that 35% of SME exporters seek advice. The main port of call for advice is the UK government, with 22% approaching the Department of International Trade (DIT) and 15% contacting the HMRC. For general information, 40% of SMEs approach consultants and business advisers, followed by accountants (30%) business networks (20%) and solicitors (11%)2.
The DIT is a useful initial starting point, and they will provide high-level, general advice. You can search for events such as trade shows and you will find an array of general market guides for various countries and industry sectors.
Be aware, however, that the DIT can only provide help up to a certain point. SMEs need the most support when it comes to identifying opportunities and winning contracts. It isn't purely about market statistics, you need actionable insights. You should find a partner who doesn't mind rolling up their sleeves and getting their hands dirty, and will help you identify those opportunities and secure new contracts. Businesses need to find a specialist market entry partner, such as ourselves, who have a proven track record.
Tip #2 – Market-entry health check
Carrying out a market-entry health check will help you to find the best ways to deliver and distribute your goods or services. Areas of consideration include:
How is business conducted in your target market and sector?
What are your export strengths and weaknesses?
What is your financial capacity?
Which trade agreements or barriers apply to your target market?
What after-sales support is required, if any?
Tip #3 – Build a sales pipeline
The next step is to secure and win new orders. Telemarketing is a highly effective way to achieve this, so pick up the phone and speak to your potential customers. This will be the quickest way to get a ROI. Call upon your contacts and get relevant introductions. This will give you the solid evidence needed to invest in your target market. Paul McIntosh, CEO and Founder at Bridgehead says, "Put the horse before the cart and focus on sales as the first step." You need experienced salespeople with the market know-how to help you build that critical sales pipeline.
Tip #4 – Prepare a detailed Go-to-Market (GTM) Strategy
A GTM strategy is a highly detailed action plan setting out how you will sell your product or service to reach your target customers. There are 5 core components to an effective strategy. Having a soli Go-To-Market strategy makes not only our top tips for new exporters list, but it is an essential block in any business growth plan.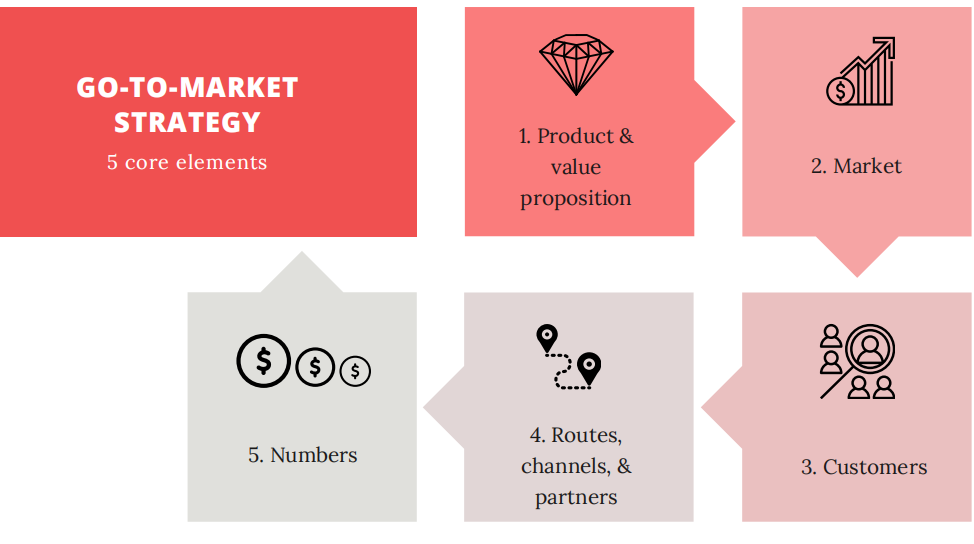 1. Markets
Clarifying your target market(s) is the first step. What problem(s) needs solving in your target market? How does your product or service solve the customer's problem? This step pinpoints whether there are any gaps in the market, how accessible that market is, and whether the barriers to entry are high or low? How intense is the competition? What does the supplier landscape look like? This step establishes whether there is sufficient demand for your product in that market.
2. Customers
Use market research to acquire intelligence to really understand your customers. Understand who they are, their needs and their behaviour. Once you understand your customers, you can segment them and develop customer personas to enable more effective targeting.
3. Routes, channels and partners
Understand and define the right routes, channels & partners which you'll use to reach your customers. You can decipher whether it's best to export directly or indirectly. The former entails selling your products or services directly to your customers. The latter, indirect exporting, is where you sell through an intermediary, e.g., foreign distributor or agent.
4. Numbers
Developing your pricing strategy is a key consideration. The price needs to reflect the market positioning of the product or service, and take into account local competitor products. You'll also need to cover the additional costs incurred through exporting, such as shipping, tariffs, taxes or distributor fees.
5. Product and value proposition
Your value proposition is the compelling reason why your customer should buy your product over your competitors. Using Amazon as an example, their value proposition is: low prices, fast delivery and a wide selection. If you are directly exporting to a customer abroad, tell them why they should wait for your product rather than use a local supplier.
Whilst most SMEs start exporting because of reactive or opportunistic reasons, those companies which succeed and thrive have a GTM strategy in place.
Tip # 5 – Line up the experts
As you embark on your exporting journey, you'll need to establish a network of specialists across a range of subjects. You may choose to develop some of these skills in-house and outsource the rest. Our recommendation is to work with a reputable specialist market entry partner who can connect you with the right people and help you win those initial contracts, allowing you to hit the ground running, and rapidly. Exporters often face financial constraints, so consult with your bank, and they'll be able to take you through the various trade finance options available. Finally, once the pipeline starts to fill, accountants and solicitors can assist with due diligence compliance in your chosen country.
Which tips for new exporters will you implement first?
Exporting is not without its own set of challenges and requirements. For SMEs who are new to exporting, as Benjamin Franklin once said, "Failing to prepare is preparing to fail." Preparation and planning are key to ensuring success. We have already helped over 70 SMEs and start-ups scale to multi-million-pound turnover businesses, through successfully exporting to Europe and North America. Ready to start preparing? Contact us today.
"Identifying opportunities and winning contracts were seen as most significant barriers to SMEs exporting." – The SME Export Finance Survey
References:
Facts4EU
British Business Bank
Insights on international success
If you enjoyed our top tips for new exporters, join our Discovery Lite portal for free. You'll get access to a monthly insights magazine and bonus downloadable materials to help your business reach new markets:
Related content