20/10/2021
What should startups be outsourcing when it comes to global expansion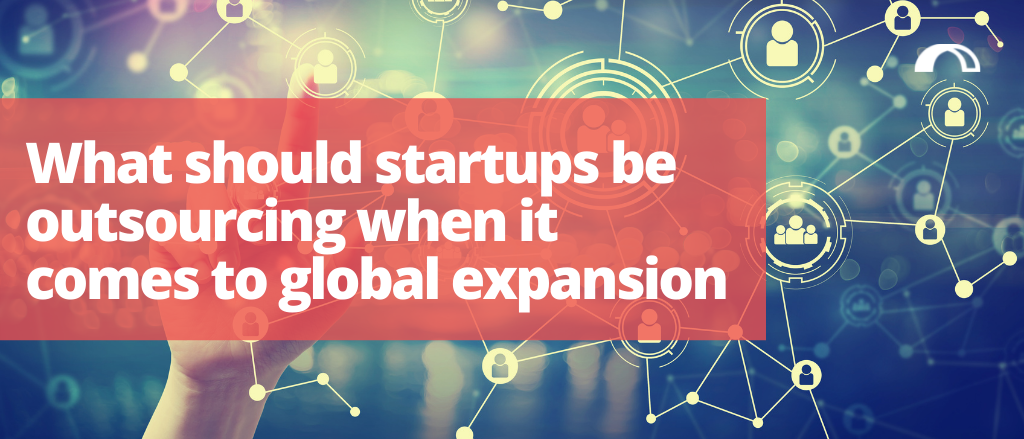 Outsourcing when expanding – what are the benefits, what functions can you outsource, and how outsourcing is evolving
For years, global giants have outsourced work to grow their businesses. In 2019, Google was reported to have more outsourced workers than employees! The Deloitte Global Outsourcing Survey identified that 66% of startups outsource their process-based tasks. In this blog, we explore the reasons for outsourcing and what startups should be looking to outsource when global expansion is on the agenda.
What are the benefits of outsourcing?
Outsourcing critical operational functions, such as finance, IT or HR, ensures consistency, improves efficiency and reduces costs. It also leaves you with time to manage the complexities associated with international expansion. Let's explore why outsourcing makes sense.
Reduces costs – this is the most common reason why businesses may choose to outsource some aspects of their processes. Employing someone is expensive. When you outsource, you can pay an agreed amount.
Leverages experts – it might prove difficult to recruit talent with niche skillsets. By outsourcing to freelancers or companies, you can leverage their expertise. These experts can complete tasks more efficiently. Let's take the US-based communication platform, WhatsApp as an example. Almost all of their development was outsourced to developers in Eastern Europe. WhatsApp claimed that "they were the best developers in the world." WhatsApp was sold to Facebook for $19 billion in 2014.
Avoids fatigue – global expansion may be completely new to you and the business. Taking on too much can quickly result in you and your team being burned out. The chances are, your resources are limited, so be open to outsourcing.
Increases flexibility – outsourcing offers more flexibility. For example, you can mutually agree on the hours and duration required. It could be short or long term.
Small business functions you should be outsourcing during global expansion
For startups, global expansion presents new challenges. As such, we'd recommend that you outsource certain operations to an experienced team. This keeps you focused on the aspects of your business you know best, running it efficiently, and turning a profit.
Market research
Market research to establish the level of demand for your product or service in your chosen target market should be the first step in your global expansion journey. An experienced agency will seek to understand your research objectives and outcomes, and will be able to recommend methods, and undertake the research on your behalf.
Market research is a specialist skill and those involved have years of experience, and know how to get the best out of their subjects. They are also more likely to get unbiased feedback. In addition, an agency will have access to secondary research and insights.
Creating and implementing a Go-to-Market-Strategy
A go-to-market strategy is an extensive plan, developed specifically for your business, that will help you to expand into a particular market. If this is your first time entering an international market, then we recommend that you appoint specialists who can help you to create and also implement a strategy. Your Go-To-Market strategy should acknowledge:
Whom will we actively target within the market?
What will be our product portfolio for our target customers?
How much will we charge for our products for different customers?
How will we promote our products to target our chosen customers?
Where will we promote and sell our products to our target customers?
Bridgehead has helped over 70 startups to scale up. Using bespoke Go-To-Market strategies developed by us, these businesses have successfully increased sales of their products and services in new international markets. Read our top 10 tips for creating a Go-To-Market strategy here.
What matters most, however, is the implementation of the GTM strategy. And that's another area in which our clients can benefit from our experience. For example, we can advise on product/service localisation requirements, price elasticity testing, meeting all legal requirements AND secure orders to ensure a rapid return on investment. Quantifiable results in 90 days, guaranteed.
Sales
We appreciate that not all startups have a dedicated sales team. This is an area which could be outsourced. We have our own team of experienced salespeople, which as a client you would have access to. Before project commencement, they are trained to understand your business in depth, your product or service and its benefits, and also your target customers. Our team can help you secure those critical orders in your target market, allowing you to rapidly achieve a ROI.
One of the benefits of working with us is our extensive network and connections in the European and North American markets. So, whether you are selling a fast moving consumer good (FMCG), or software as a service (SaaS), we can connect you to the right people.
Manufacturing
If you have a product, which is manufactured in your domestic market, you have the option to either scale up your manufacturing, or alternatively look to manufacture overseas in your target market. Manufacturing in your target market will additionally protect your business from unforeseen circumstances, such as shipping delays. Outsourcing your manufacturing also helps you to establish local relationships.
Logistics
When it comes to distribution, consider using a drop shipping service to handle customer deliveries, because it's easy to become overwhelmed with handling logistics. In an overseas market you'll also need to account for currency and time differences. Outsourcing logistics has the additional benefit of enabling you to focus on the core aspects of your business.
Finance and accounting
Businesses expanding overseas will face additional financial constraints. Finance and accountancy remains one of the most common areas for startups to outsource. In your new target market, you are likely to encounter different tax legislation and compliance, requiring in-depth knowledge. Appointing specialists will ultimately save you time and money.
How outsourcing continues to evolve
Deloitte's latest global outsourcing survey (2021)1 revealed how outsourcing is changing. Previously, companies outsourced to improve back-office operations and to reduce costs. Today, disruptive outsourcing solutions such as cloud computing and robotic process automation are accelerating business changes.
Businesses recognise that disruptive solutions can revolutionise the way they operate. Through outsourcing expertise, it's faster and more scalable than building these skills in-house. These are empowering companies to work smarter, scale faster and to reach new markets. For example, companies are using human resource bots to handle recruitment applications, answer questions and offer candidates support throughout the recruitment process. Bots are also being deployed to improve invoice processing.
Will you be outsourcing?
The rewards are high if you succeed in global expansion, but statistically only 20% of companies who try will actually make it. Outsourcing operational functions will help you to focus your efforts where they are required. With many years of helping businesses enter new markets successfully, outsource to us today.
International expansion doesn't have to be a leap of faith, follow our advice to increase your chances of success. For an initial discussion, contact us today.
Further insights on international expansion
If you found our article on outsourcing useful, join our Discovery Lite portal for free where you'll get access to a monthly insights magazine and bonus downloadable materials to help your business reach new markets:
References:
1. The Deloitte Global Outsourcing Survey 2018
Read next on international expansion: